Grand Master Johnny Kwong Ming Lee
Grand Master Johnny Kwong Ming Lee (Lee Kwong Ming, with surname first) was born in Shanghai, China.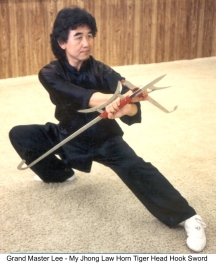 In 1958 his family moved to Hong Kong, where at the age of twelve, he began studying Northern Shaolin My Jhong Law Horn under the late Grand Master Yip Yu-Ting. Master Yip was a respected and recognized member of the Four Supreme Excellent Masters from Hopei Province, China. He took Lee Kwong Ming as his last personal student. In 1965, Lee Kwong Ming was lucky to find and also become the personal student of the late General Sun Paul Kung. General Sun was a disciple of Grand Master Fu Zheng Song , one of the original "Five Tigers" from northern China. He taught Lee Kwong Ming internal Kung Fu, Pa Kua Chang, Chi Kung and Tai Chi. Grand Master Lee also had the privilege to be the personal student of China's National Treasure, Grand Master Ma Yueh Liang of the Shanghai branch of Wu Style Tai Chi.
In 1974 Grand Master Lee was invited to Shreveport, Louisiana, where he became one of the first Chinese Masters to introduce the traditional Chinese Martial Arts into mainstream America. Since then, Grand Master Lee has demonstrated his Kung Fu in numerous national and international Karate tournaments and Kung Fu exhibitions, including: Battle of Atlanta (Georgia), Ft. Worth National (Texas), National Chinese Martial Arts Championships (Texas), Taiji Legacy (Dallas) and the International Chinese Martial Arts Tournament (Florida).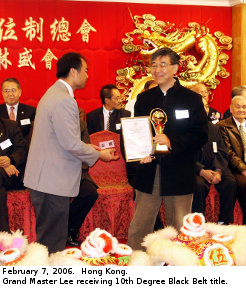 Grand Master Lee has been featured in many national Martial Arts magazines through personal interviews as well as professional articles about traditional Kung Fu. Grand Master Lee was recognized by Internal Arts magazine as "…one of the most knowledgeable Masters of Pa Kua Chang in this country", and by Inside Kung Fu as "…a nationally respected instructor of Chinese Martial Arts", and also by the Pa Kua Journal as "…one of the two best known Fu style Pa Kua Masters in the United States". He has also been named Instructor of the year and inducted in the Louisiana Black Belt Hall of Fame. Grand Master Lee was also the co-director of the 1997 United World Kung Fu Wushu Championship in Orlando.
Grand Master Lee is a member of the advisory board of the U.S. Chinese Martial Arts Council as well as the U.S. Wu Shu Federation. Early in 1991, he was elected National Chairperson of Chinese Martial Art, Traditional Northern Shaolin of the AAU. In 2001, he was inducted into the North American Black Belt Hall of Fame. In 2003, he was elected Honorary President for U.S. Traditional Wushu. In 2004, the World Kung Fu Wushu Master Association awarded him with the Lifetime Achievement Award. In 2005, Grand Master Lee was elected 10th Degree Black Belt by the World Kung Fu Wushu Masters Association. In 2007, he became the Honorary Advisor to the Hong Kong Traditional Wushu Federation in China.
The high degree of proficiency of Grand Master Lee's teaching skills, applications of technique and theoretical insight into the Chinese Martial Arts, both internal and external, are best demonstrated through his students. They excel in national and world championship titles in forms and sparring. Here are some of his students' many achievements: 1994, gold medal in the Traditional Northern Kung Fu division of the Beijing International Wushu Tai Chi Championship; 2002, four gold medals of the five Chin Wu forms – Kun Li Kuen, Ba Gua Do, Shepherd Staff and Five Tiger Spear; 2003 -2004, NASKA Open Tournament U.S. World Champion; 2006, Zhong Zhou City China World Traditional Wushu Championship, Northern Kung Fu Traditional Champion. Aside from this, there are many more achievements his students have earned the world over.
Grand Master Lee and his students are spreading his instruction in Traditional Chinese Martial Arts through branches in Texas, Arkansas, Louisiana, Georgia, Virginia and Florida with headquarters in Dallas, Texas.
More photos